BARS & NIGHT CLUBS WRISTBANDS
BAR AND NIGHTCLUB WRISTBANDS FOR SECURE AGE VERIFICATION
Staying on top of age verification and preventing underage drinking is a priority for all venues like bars and clubs that serve alcohol.
Identify guests, staff, vendors and VIPs
Identify 21 and over for alcohol sales
Manage crowds and access levels
Promote sponsors for branding revenue
Speed up food and beverage lines
XRFID offers a number of wristband options that can be used as bar and nightclub wristbands. The main material that bars use for their bands is Tyvek® which is a paper-like material that is very inexpensive. In our Tyvek® material for bar wristbands, we carry stock band colors, age identification designs, VIP designs, and more! These bands instantly help bars keep track of their customers, add safety, add security, and overall take the difficulty out of crowd control in a bar which can save bars time and money.


MATERIALS
We also sell plastic and vinyl wristbands when it comes to admission bands. These materials are a little more durable and making them more suitable for multiple-day events. Besides the durability, all three materials are very secure due to their one-time use closures. Tyvek® wristbands have an adhesive closure while plastic and vinyl have a snap closure. These wristbands have to be destroyed to be removed so no need to worry about individuals swapping or selling bands.
USES FOR BAR WRISTBANDS
Most bars use wristbands to identify customers that are over the age of 21. Another popular way in which bars use wristbands is to notify which customers have VIP access to exclusive parts of the bar. Bar owners also tend to use bands to just notify which customers have general admission into their bar, who has the privilege to drink for free or at a discount at the bar, and or who is the designated driver of the group.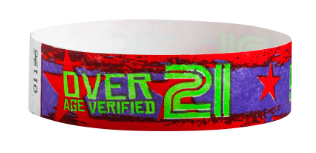 CUSTOM BAR WRISTBANDS
Another option for your bar wristbands is to create a unique custom Tyvek®, plastic, and or vinyl band. We offer the option to add any text and logos to the bands to make them personalized to your bar, nightclub, or event. Creating your own custom wristbands not only prevents fraud but also allows you to market your bar right on the wristband worn by guests.
POPULAR CASH TAG BAR BANDS
Vinyl cash tag wristbands allow bars to control how many beverages or free beverages guests can enjoy. These bands are wristbands with tickets attached to them. The wristband acts as the general admission indicator for the security workers and the tickets help the bartenders keep track of guests drinking making the wristbands helpful in many ways.
SILICONE WRISTBANDS
We also offer silicone wristbands which are great for bars and taverns hosting events. These wristbands are great for raising awareness, generating sales/profits, promoting, and advertising, but keep in mind they are not secure for admissions. Individuals are able to swap bands and wear them as an accessory. These bands can be removed without destroying them, unlike our other kinds.