Admission wristbands are a critical component to securing your event or attraction. These entry bracelets make it so organizers can quickly validate admission and spot trespassers. Here, we understand how important budgeting is when planning an event. That is why we offer high-quality wristbands at the lowest prices. We offer two types of admission wristbands—Tyvek and plastic wristbands.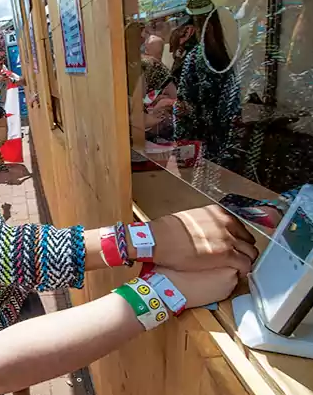 TYVEK WRISTBANDS
Tyvek admission wristbands are perfect for short-term use. Many of our customers prefer these for weekend events, festivals, and concerts. They are also our least expensive offering, but don't let the price fool you. They are tear-resistant, waterproof, and very durable. Best of all, they can be recycled.
PLASTIC WRISTBANDS
Plastic wristbands offer greater durability than Tyvek wristbands and are the preferred option for events lasting three days or more. Our plastic admission wristbands feature a secure locking snap that prevents the band from being removed unless safely cut with scissors. This ensures that your wristbands are not being transferred or resold.


CUSTOM ADMISSION WRISTBANDS
Sure, you can buy standard stock wristbands, but that's not nearly as fun and personal as creating custom admission wristbands with our easy-to-use online configurator. To begin, just follow these four easy steps.
#1: SELECT A PREVIEW COLOR
This step will allow you to visualize your wristband design. If you require multiple colors, fret not. You can select colors and quantities later on in this process. Be sure to also select an imprint color as well. When you're ready, click Next Step.
#2: ADD TEXT
Click Add New Text. Here, you can add characters to the textbox. You can also change your font and text size in this step. When you are satisfied, click Next Step.
#3: ADD GRAPHICS
Click Add Graphics, then click Change. You may choose from any of our free-to-use clipart, or upload your graphics from your device. Add as many graphics as you wish!
#4: REVIEW YOUR DESIGN
Take one last look at your design. If you are happy with your work, select the checkbox to approve your design and click Approve & Select Quantities. Here you can select the colors you need and quantities.
You just designed an amazing admission wristband. Congratulations!
NEED SUPPORT?
If you have any questions at all about our products, be sure to get in contact using our chat feature at the bottom of the page. We have representatives waiting to help you.